Adnan Khashoggi was famously known for living a lavish lifestyle. While many of his life stories focus on the height of his success, there are many untold stories about his earlier years.
Adnan attended, Victoria College, a boarding school located in Alexandria where he made many friends including the late King Hussein of Jordan, Hussein bin Talal, and the Actor Omar Sharif. The father of one of his friend's ran a small textile company, with ambitions of expanding and selling towels and sheets in Libya. With his family connections, Adnan was able to arrange a meeting for his friend's father. For setting up the meeting, Adnan earned $1,000. While the money was certainly appreciated, especially to a young student, the lesson Adnan learned was far more valuable.
After the meeting, Adnan commented, "In order to make money, you had to put people together." This is a lesson that Adnan took to heart. What started out as a simple business deal was the precursor to a much larger empire. In all of his business deals, Adnan always remembered the key to being successful was using his work to bring people together.
In one of his first big deals, a large construction company was experiencing difficulties with the trucks that it used on the shifting desert sands. Khashoggi, using money given to him by his father for a car, bought a number of Kenworth trucks, whose wide wheels made traversing the desert considerably easier. Khashoggi made his first $250,000 leasing the trucks to the construction company, and became the Saudi Arabia-based agent for Kenworth.
In the 1960s and 1970s, Khashoggi helped bring together Western companies and the Saudi Arabian Government to satisfy the needs of the young Kingdom for its infrastructure and defense needs. Between 1970 and 1975, Lockheed paid Khashoggi $106 million in commissions. His commissions started at 2.5% and eventually rose to as much as 15%. Khashoggi became for all practical purposes a marketing arm of Lockheed. Adnan provided not only an entrée for his business partners but strategy, constant advice, and analysis.
A commercial pioneer, he established a company called Triad International Holding Company, a multi-national private investment corporation. Its investments include many notable properties and businesses throughout the world. The company consisted of subsidiary companies, including Triad Management, Triad Properties, Triad Energy, Triad Technology, and Triad Financial resources.
The Global span of the businesses prompted the creation by the Khashoggi family of a board-game called Triopoly which was modeled after the classic game of Monopoly. The various game tiles represented properties and companies owned by Khashoggi and his Triad corporation. The game was manufactured and given to family and friends.
Triad International was formed in the early 1960s and as it grew spanned five continents. The company holdings included hotels, shopping centers, banks, oil refineries, a computer manufacturer, a gold mine, construction companies, car and truck franchises, and a professional sports team, the Utah Jazz.
The company was headquartered in Geneva, Switzerland with its subsidiary companies located in the United States, Canada, and Saudi Arabia.
Khashoggi, through Triad, owned the Mount Kenya Safari Club, known as Ol Pejeta Conservancy, a several hundred acre reserve at the foot of Mount Kenya, San Francisco Town Center East a $250 million property, Long Beach Edgington Oil a $250 million per year oil refinery, Santa Ana based ATV computer systems, Arizona, Colorado Land & Cattle company, Security National bank in Walnut Creek, CA, Barrick gold mine in Toronto, Canada, Saudi Arabian Kenworth, Chrysler and Fiat car and truck dealerships, the National Gypsum company in Saudi Arabia, and Sahuaro Petroleum in Phoenix, AZ.
The company also had major financial interests in Lloyd's of London, The Manera company, Las Brisas Resort in Acapulco, Mexico, The Houston Galleria, National car rental, Pyramid Oasis in Cairo, Egypt, Travel Lodge Australia, Pacific Harbor hotel in Fiji, Beirut Riyadh bank, and the bank of Contra Costa.
Khashoggi's Triad real estate holdings included private residences in Beirut, Lebanon, Jeddah and Riyadh Saudi Arabia, Geneva, Switzerland, Cairo, Egypt, Salt Lake City Utah, Cone Ranch, Florida, Rome, Italy, Paris and Cannes, France, London, England, and a multi-floor penthouse in Olympic towersin New York.
Khashoggi also owned several private jets, and super-yachts through Triad, including a McDonnell Douglas DC-8 and DC-9, three Boeing 727's, and several smaller business jets and helicopters. His three super-yachts, the Nabila, The Mohammadia, and the Khalida,were named after his children, Nabila, Mohammed, and Khalid.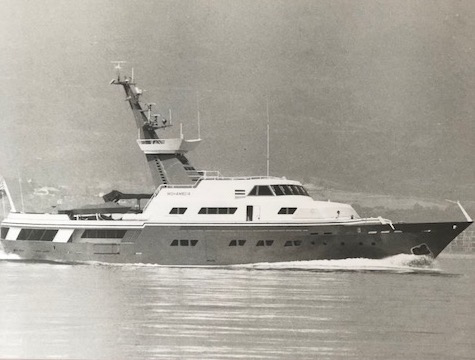 Adnan Khashoggi was often described as a one-man marketing department. Adnan personally handled all his business deals. He believed the key to success was not simply in selling products, but in making a genuine connection with his customers and partners. It would have been easy for Adnan to hire his own marketing team, but he always chose to personally make deals.
While Adnan genuinely cared about the deals he made, he also recognized it was much easier for partners and customers to trust him if they could meet and speak with him. This was one of the keys to Adnan Khashoggi's success.
Running a successful business enterprise is a very difficult process. However, it is easy to forget even the most influential business owners struggled before achieving success. Anyone who had even a passing familiarity with Adnan Khashoggi knew how successful he was. There was a time during the 1980's where he was hailed as being the richest man on the planet. Adnan Khashoggi worked very hard to earn his wealth, and he had plenty of wisdom to share with other business owners, which he freely offered. During an interview with the New York Times in 2009, Adnan Khashoggi commented he had no regrets for what happened in his life, whether it was good or bad. He also added that money is not the most important thing in the world, but it is a means to achieving other goals. Many of those goals included a vast philanthropic network, especially for those that helped the underprivileged.
Adnan Khashoggi is often referenced with adjectives that are less than flattering, owing to the lavish lifestyle and over the top parties given in the 60s, 70s and 80's. But perhaps one of the most interesting details about this larger than life individual, is the many lives that he managed to touch and influence throughout his life. At the core of his being, Adnan was a literal bridge over troubled waters, often bringing together negotiations and agreements where others failed. His ability to broker a deal in those early days saw him rise to great prominence, first in his own country of Saudi Arabia, and then later, globally. Most notably he was instrumental in assisting many world governments in the early days with their negotiations in the Middle East. Not a formal ambassador, he nonetheless often acted in this capacity. And to that end, was well rewarded. Connections extended from the highest of government levels, to the most notable of celebrities. There was no one industry that the influence of Adnan Khashoggi did not touch either directly and indirectly. It is the rare individual who is given the ability to understand human nature and who is able to find a win-win solution for all involved; the likes which we may not see again for a very long time. While it is clear that Adnan Khashoggi had a large appetite for life and a zest for living that matched his charisma, his impact and contribution to the world as we know it, was extraordinary.